BRUSH REMOVAL & WOOD CHIPPING SERVICES
Robin's service for brush removal is often requested by those building a house or owns a land with many trees. A homebuilder's foremost concern is clearing the land prior to starting the building construction, while clearing a large area of land or multiple land areas can be a formidable task. Here is where Robin's brush removal and wood chipping service comes in. We have high quality equipment and a team of licensed and experienced professionals who handle our tree services efficiently and safely.

The work of removing brush is necessary for you to appreciate your home and landscape. Leaving the brush around is a distraction from the beauty of the landscape, distorting the perceived worth of the property. Brush can also become a safety concern for you, your family, and guests. It also prevents you from entertaining people outdoors. Removing the brush could be tedious but you can save yourself the trouble by calling us. We are more than happy to do brush removal for you.


---
Call us and we immediately send a member of our team to your property to assess the amount of work to be done on your brush and will then give you a free quote. Our team will work with you to set the time and date you want the job to be done and completed. The work includes a commitment to clear the area restoring the beauty of your landscape. Rest assured that whatever the situation is, we are ready with our high quality equipment and experienced professionals to handle your concern in a safe and efficient way.
​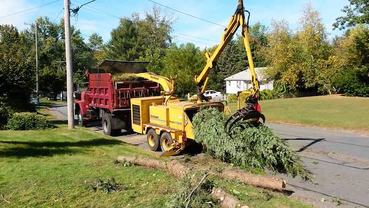 Robin's Tree Service
include wood chipping. Part of our goal is to be environmentally friendly and responsible. Wood chipping is where we work on the brush and make it into wood chips, which you can then use either as firewood or as mulch. Chipping the wood is giving it another purpose or transforming it for a new purpose, like the tree branches that are dead, which allow you to use them in various ways.
You may have on your property a wood pile left over from your previous tree pruning that you feel have no use. You may not be aware of what the many uses you can still have from a pile of useless wood. Allow us to turn the pile of wood into something useful using our chipper and make mulch out of the wood for your garden or use the chipped wood for your fire pit.
You do have the choice for a leased chipper and work on the wood yourself. Many of our customers, however, find chipping wood tedious and dirty and choose to utilize our service instead. They find that utilizing our wood chipping service frees them of time which they can put to better use or devote to more interesting projects.
Many would agree that brush removal and wood chipping are unpleasant tasks. However, these are jobs that we are willing and happy to undertake for you. And we do so with efficiency and care. Contact us today for the complete removal of your brush and wood chipping needs and you can rely on us to respond immediately.
---