TREE SERVICE – Columbia's Best Tree Care Service
Trees grow, age, and decay. When they do, they become safety hazards to you and an eyesore to your landscape aesthetics. Robin's Tree Service Colombia MO is the answer to your tree-related concerns. Our services provide skilled and experienced professional staff that, not only responds to your tree-related concerns, but will listen and respect your preferences. You can count on our staff's holistic approach in treating your trees and in taking into consideration your landscape.

---

About Robin's Tree Service Columbia

Our tree service in Colombia MO offers a wide range of tree management, big or small, from tree trimming, tree removal, stump grinding, brush removal, wood chipping, and emergency tree service. We provide assessment and guidance on your tree related and landscape aesthetic concerns. Even when we give professional suggestions, we listen to your ideas and preferences, acknowledging that you know your property best and what you want.


Our staff is experts in the latest and safest equipment in the market to ensure your safety, which is our primary concern. We receive frequent requests to handle large jobs; we have the equipment to respond to these concerns. We realize, though, that equipment could damage the landscape. In such instances, we use a climbing harness should you prefer one. We strive to provide excellent quality customer service.
​
We take pride in delivering prompt and dedicated service to our customers, serving various property types: residential,
commercial
, investment properties including large developments. We believe in hard work, quality in performance, and the assurance of risk-free services. We aim for your satisfaction. We are the tree service Columbia trusts to provide professional yet affordable tree care.

We guarantee our customers 100% satisfaction from our services. Check and compare the following criteria that give our company the edge against our closest competitors and the reasons our tree service customers in Colombia, Missouri call us.

Robin's Tree Service is licensed, insured, and bonded for zero liabilities during and upon completion of our services. Our staff has full compensation benefits; hence, we have a team of well-compensated staff, always eager to serve.

---

It is an honor to serve the community since 2001. Through the years, we have seen how the whole community has thrown their support to local businesses like ours. See our

service locations

.

Our service starts from the time we arrive on your property to the raking of leaves from the removed tree. We have qualified and experienced arborists who can handle a wide range of jobs from felling trees to clearing undesirable brushes on your backyard. Upon the completion of our job, your property should be on a much-improved condition than when we arrived.


---

Fully Equipped Tree Service Business

We are prepared to work on projects with different sizes. Whatever the size and type of the project, we have the leading tools in the market and the most qualified arborists to do the job. For our equipment to maintain its top-notch performance, we make sure of proper and regular maintenance. We hire highly qualified arborists and undergo continuous training and education to be able to perform the work expected from us.


We boast of loyal customers who call us because of our commitment and professionalism in everything we do. You can rely on us to fulfill what is expected of us. Robin's Tree Service has the experience, equipment, and the business management expertise to back our word.
​


Safety is our Top Priority

We are aware of the hazards and the threat of unmanaged trees. Rest assured that because we maintain state-of-the-art equipment and keep our staff updated on safety protocols and practices. Our company is compliant with the International Society of Arborists (ISA) and the Tree Care Industry Association (TCIA) on safety measures and proper practice of tree care. These safety guidelines include the proper use of climbing harness and appropriate operation of equipment.
​


---

Clients call us because of the fair price we offer, coupled with excellent quality tree service. Offering our tree services at an affordable price is our way of giving back to our clients.
​


Free, Usually Same Day Quotes

Most households would hesitate hiring companies to help them with their trees because of budget constraints. Rest assured that once our team has completely assessed your issues, you will be given free cost estimate quotation.


---
Rates are critical, as many clients want to get excellent quality service that they can afford. Our rates will depend on a number of variables. Here is a helpful guide: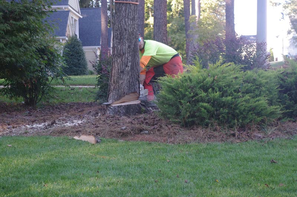 The cost of our tree removal service ranges from $400to $2000 and would depend on the location, height, diameter, and species of the tree.

Location
This refers to the position of the tree. This is an important factor because this will determine how easy or difficult the process of removing the tree. How and where the tree is located determines the danger our staff faces – the greater the danger posed by the job, the higher the cost. Visual assessment includes how the tree is positioned – if leaning towards the house or branches are tangled with power lines. An experienced lineman will be needed for this, and the cost may increase.
​
​Size
Taller trees imply more work and require more staff to accomplish the job within the agreed time. Smaller trees require less work, less staff, and the use of less equipment.

The diameter of the tree is also an integral factor as it determines how long it will take to accomplish the job. Cutting a thicker tree would require a longer time and may call for cutting the tree into smaller sections. The whole process would require additional manpower and equipment.

Species
There are different kinds and species of trees – some are big, some are small, some have hard trunks, while others have soft trunks. Trees with harder trunks will be more difficult to handle than softer ones. Further, trees with multi-trunks are more difficult to remove than a tree with a single trunk.

---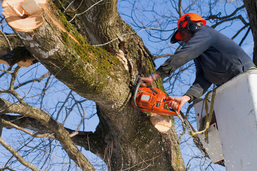 Five factors go into the assessment of tree trimming pricing. These factors are location, height, diameter, and the tree species, including the trimming degree required or desired. With the five factors, the pricing would range from $200 to over $1000.

Location
The same with the tree removal service, the key to our costing is the location of the tree. A tree positioned at the center of the field takes lesser resources like time, manpower, and equipment than a tree tangled in power lines or leans on a structure.

Size
A tall tree requires our staff to climb higher to trim the branches. Hence, our staff would need more time, extra safety measures, and other resources to complete the job. The cost of tree trimming will necessarily mean higher pricing, less with small trees.

The diameter is another consideration that matters since a bigger diameter indicates more branches to be cut. And, more branches for cutting means more time and effort required to accomplish the task.

Species
There are trees that have more branches and bigger limbs, depending on the tree species. More branches and larger limbs necessarily mean more work requiring more time to finish the job.

Degree of Trimming
Central to our tree trimming service is the degree of the desired trimming. An overgrown tree needs more work and time to shape compared to a tree that received regular trimming.

---
Cost of Stump Grinding & Removal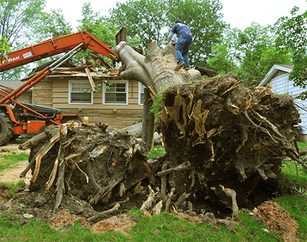 Assessment of a tree for stump grinding or removal considers five factors: grinding or removal, location, age, size, and species of the tree. Having assessed these factors, pricing would start at $500.

Grinding vs. Removal
Depending on the needs of the tree or your preference, we can either ground or remove the tree stump. Grinding saves time and money and is, therefore, a more economical choice. The process of grinding is easier than removal since the stump is ground to below ground level, covered with dirt, and allowed to decay along with the roots.

Stump removal requires a more intricate process in that the stump calls for the removal of the whole stump including its roots. The hole left from the removal is then filled. The stump removal service is more expensive since it requires more resources to complete the job. Whichever method you choose, we are more than willing to perform either service and help you in deciding which is appropriate for the tree.

Location
The location of the stump is central to our stump grinding or removal service. A stump which is difficult to reach requires longer time and more resources to grind or remove. A stump which is near a structure requires a complex process and is time-consuming.

Size
A large stump would require more work and time to put into grinding or removing it. A small stump may accomplish the task of grinding and removing in a couple of hours, but a larger stump would involve more hands and a longer time.

Species
The tree species determines the difference in the work involved. Grinding a softer stump is easier and is less time-consuming compared to a hard wood which takes longer to grind.

Age
The age of the stump is a key factor in our pricing. An older stump tends to have a more complex root system which complicates the stump removal process. Age, therefore, makes our service more costly.

---
Tree Trimming or Tree Removal?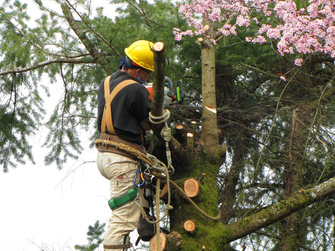 The decision whether to trim or remove a tree depends on the answers we get from the following questions:

Is the tree a danger to your property?
Does the tree have many dead branches or is the tree dying?
If the tree is a hazard, we further assess the tree for the following conditions: is the tree in contact with your home or with another structure on your property? Which part of the tree is making contact – a single branch or the trunk?

Trimming may be the choice if a branch or two is in contact with your structure, and only when doing so is safe and will not affect the tree's health.

Does the tree have dying limbs or decaying?
Removal may be the best option if it is evident that the tree is dying or decaying fast. Trimming is sufficient if there are only a few branches dead and it is possible to restore the tree's health.

Is the tree creating a problem?
You have a problem with a tree if it is dangerously close and a strain on the structure; if a storm damaged the tree and is beyond restoring it; and it is too large that it hinders the growth of grass and plants. In such cases, removing the tree may be the best option. For an overgrown tree, trimming is sufficient.

Does the tree still add value to your landscape?
If the tree is part of your landscape but is becoming an eyesore, trimming is enough. Regular tree trimming is a healthy practice and can bring out the beauty and restore the health of the tree. The practice, however, is often neglected. If the tree has no added value to your landscape and you consider it a problem, then you may consider tree removal.

---
Robin's Tree Service Columbia - Service Offerings
The services we provide cover a range of tree maintenance for commercial and residential customers, including an emergency tree removal 24x7 service.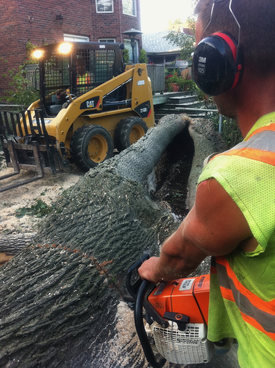 Tree removal tops requests from our customers for our services. A tree stays healthy and retains its beauty with regular care and maintenance. While the tree is healthy, most tree owners seldom think of tree care until the tree's unhealthy condition becomes obvious. It is when homeowners call us.

Once we receive your call, our expert arborist visits the property for tree assessment and presents a free quote to you right after the assessment. The quote includes a suggested time and date for our experts to work on the tree and accomplish the job, the process of tree felling, cutting, wood removal or stacking, and a thorough cleanup. We could also assess the entire property to identify the trees that are damaged or sick and work on them.

Tree removal uses heavy equipment because work is easier, efficient, and safe. However, the equipment may damage the landscape and the property. To avoid damaging the property, we use climbing gear. We guarantee that our arborists are experts in the safe use of heavy equipment or the climbing harness. While the work is going on, a ground crew removes all debris and ensures that the safety measures are met.

---
* Best Tree Service in Columbia MO

* Affordable, Quality & Professional Tree Care Service

* #1 Tree Service Company 8 Years in a Row!

* Tree Service Columbia MO Trusts Since 2001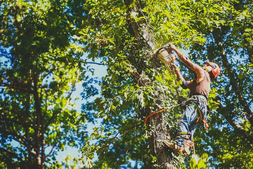 Many tree owners are unaware that damage to or the killing of a tree results from trimming done by non-professionals than the diseases or insects. Trimming sounds uncomplicated, but in truth, it involves a scientific process which should be done by trained professionals. Each tree is unique and may require a proper assessment to determine where and how to cut or prune.
Regular trimming done by a licensed professional can do much to make the tree healthy and beautiful. At Robin's Tree Service, we aim to:
Remove dangerous and dead limbs and branches
Evaluate and improve or restore the tree's health
Restore the tree's original style, beauty, and improve its symmetry and shape
The process for Robin's tree trimming service is the same as the tree removal. Our team of professionals goes to the property to assess the tree concerned, gives you a quotation, and sets a schedule for the work. Unless you prefer a climbing gear, we will use equipment designed to handle the heavy trimming job.
Tree trimming is a science as well as an art; and, our arborists are trained in both disciplines. However, if you have ideas with regards the shape and style of your tree, we are more than willing to accept them and follow your guidance all throughout the work.
---
A stump in your property can become a hazard, especially when someone trips on it. Further, it is an inconvenience, a magnet for pests, and an eyesore on your landscape. We can remove the stump for you safely and efficiently by grinding it to ground level. We have a cutting-edge stump grinding equipment that will remove the stump without affecting much of your landscape.

A storm can damage your tree and pose a danger to you and family, especially when it falls on your house or structure. We respond to emergency tree service 24/7 and works unceasingly until the work is completed. Robin's Tree service has the appropriate equipment and committed staff with the expertise to eliminate the dangers posed by the tree. We can also bring your landscape back into its original state. When an emergency arises, call the tree service you know and trust.

Brush Removal & Wood Chipping
Do you have a large area teeming with trees? The brush can be a cause for worry, particularly when you do not have enough time to clear the brush and it accumulates. Here is where Robin's Tree Service comes in, and we are more than happy to do the clearing for you. We eliminate the unwanted debris using safe and efficient methods. If you prefer, you can turn those larger branches and sticks into wood chips that serve many purposes – contact us today.